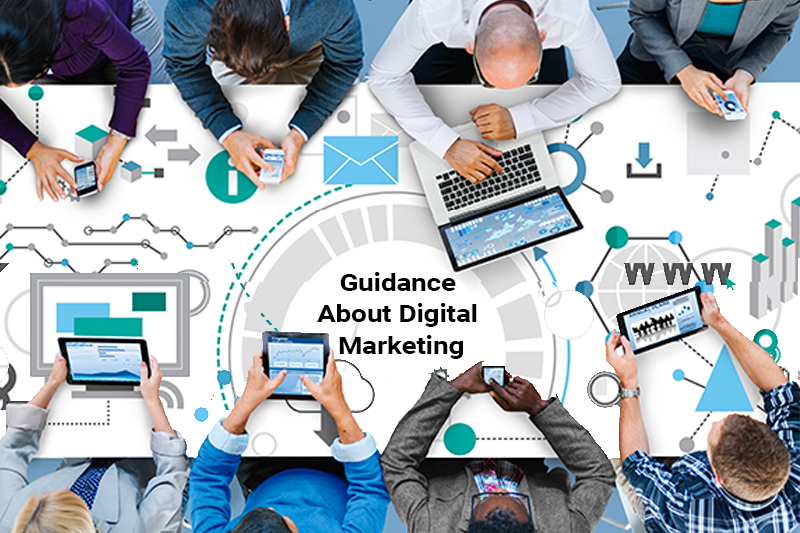 Guidance about Digital Marketing
What is digital marketing?
Digital marketing is about preforming certain strategized schemes associated with social media marketing, search optimization, and email marketing for promotion and selling products and services, like any other marketing processes.
Regardless of the choice between social media or websites, an online presence is the best way to get highlighted in front of the targeted customer. There is no need to be a computer wizard or a tech geek for understanding and enacting digital marketing.
How does it work?
Digital marketing strategies aimed to puts forward a brand on all possible online platforms to increase the probability of getting new audiences. It creates chances to interact with them, keeping them engaged and finally achieving the business goals.
Here, we will discuss leveraging basics of digital marketing such as content marketing, social media marketing, and Customer Value Journey in patch with business goals.
The two major models of digital marketing are online marketing and offline marketing. Online marketing covers area in:
Get Found with Search engine optimization (SEO) – A process of getting organic traffic from "free" and "natural" search results on all key search engines such as Google, Bing, and Yahoo. Produce high-quality content and optimize the site for users, for better ranking.
Audience connection with Content Marketing – A planned marketing approach on creating and publishing valued, pertinent, and consistent content to entice the audience and perform profitable customer actions.
Social Media Marketing framework – All about building an engaging relationship with the audience at social media platforms providing them relevant offers. Rather just being active on social media.
Reaching customer with Paid Advertisement – Push paid traffic to site through social media advertisement, display advertising or retargeting using services such as Google Adwords or pay-per-click (PPC).
Interacting with Email marketing – An act of grabbing customer attention over services by sending a commercial message to a group of potential customers. It allows in creating targeted and personalized messages. If implemented accurately, email marketing can reply as a powerful tool.
Customer Value Journey – It is an 8 step process proceeding from awareness to promotions. Helps throughout customer procurement method in building trust and loyalty.
On putting all brainteaser together ends up with an efficient digital marketing execution plan. The method, metrics, and prime movers are 3 key aspects to the strategies above all. This guide is to prevent false starts and missteps while strategizing a digital marketing plan.